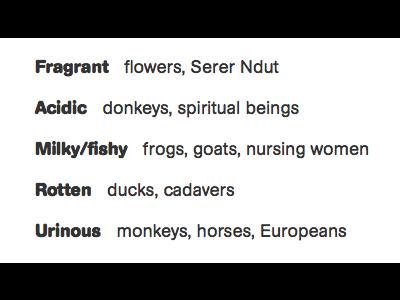 This is something else I never learned at school. I was looking into whether there was a primary colour like system, but for smells.
And I learned something from Joseph Kaye's thesis on "Symbolic Olfactory Display", about a tribe in Senegal that has 5 categories of smell. I'll give you the category and one or two examples from each.
It's, uh, extremely culturally situated.
Fragrant: flowers, Serer Ndut
Acidic: donkeys, spiritual beings
Milky/fishy: frogs, goats, nursing women
Rotten: ducks, cadavers
Urinous: monkeys, horses, Europeans
Anyway. Totally not relevant, but when I'm sitting in the library reading up on stuff, concepts like these give me ideas. Plus I just like it.