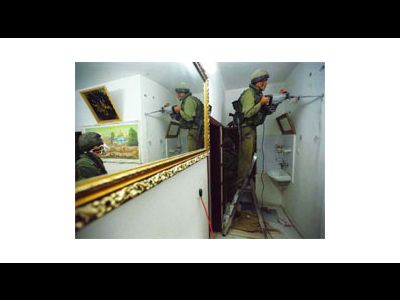 Image source: Illustration from The Art of War (Weizman in Frieze).
What I mean to say is best illustrated in research by Eyal Weizman into the Israeli military, who have created a new form of urban warfare by taking philosophies about smooth and striated space and so on, and treating the city as a read-writeable environment.
I'll read from his article in Frieze, The Art of War:
"During the battle soldiers moved within the city across hundreds of metres of 'overground tunnels' carved out through a dense and contiguous urban structure. … they used none of the city's streets, roads, alleys or courtyards, or any of the external doors, internal stairwells and windows, but moved horizontally through walls and vertically through holes blasted in ceilings and floors."
"They would burst into people's front rooms, use them as new bases, then swarm around the enemy from all directions, completely unexpected."
The military refuse to acknowledge the calcified, environmental reality. But if we're saying that's what we should be doing – refusing to inhabit a space unless we can remodel it – we have to be prepared for everyone to use that, for good or ill.