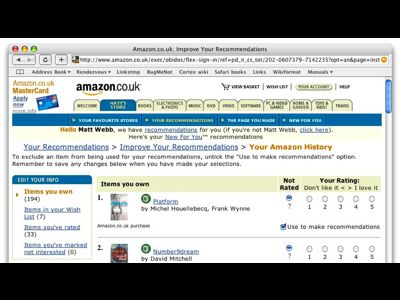 I saw Jesse James Garrett speak a month or so ago on User-Generated Information Architecture [leapfrog's notes].
One phrase that stuck with me was instrumented interfaces.
Look at Amazon – this was Garrett's example – and look at all the links and the way they're tracked. Your path through the site is tracked. It's recorded whether you buy a book from the link below another book, or if you look at a book then come back to it later from the sidebar. Your click on the book cover or the purchase link goes into a log somewhere.
The entire interface is covered in instrumentation to measure what we do.
And then Amazon iterate the space that we, book purchases, move through.
So, point 1: We also have to ask, in our iterative city controlled by an authority, what are the criteria?
The instrumentation that amazon use is there to make us buy books. It's clear.
But what are the selection criteria in architecture? Efficiency? Joy?
Are these criteria explicit; up for discussion? We have to consider these issues.