Matt Webb's 100 Head Cattle Drive 2008
"Because MOOOre is butter"
Final update! Another four cows came! The herd makes its choice. And the winner is... Breast Cancer Care. Thank you everyone for your generosity and for playing along! Breast Cancer Care have been donated £500 UK pound sterlings in your names :-D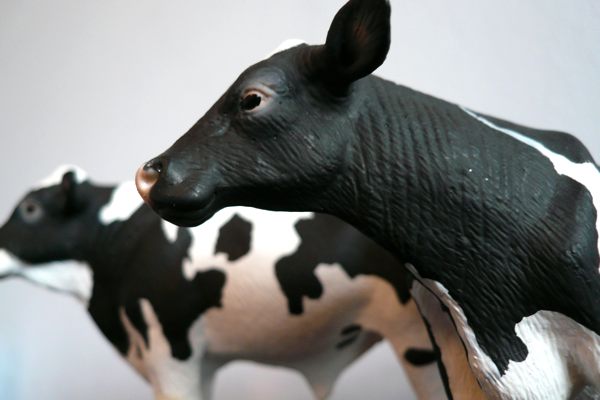 ** DESIRE
I like small plastic cows. I don't know why. I haven't owned any until today. For many years I have wanted a herd for my home. Perhaps 100 or so. Yes, 100 would do nicely. DO NOT ASK ME WHY.
(I think it would be a neat thing.)
** PROBLEM
There is no way I can justify to myself spending that much money on plastic cows. Really, there is no way.
** WIN-WIN
I could however justify giving that same amount of money, or more, to a worthwhile charity. That would be an easy thing. And while I personally could not justify splashing coins on plastic cattle, I would be perfectly happy encouraging 100 other people to each spend 1% of that (plus postage and packing). This is because of my willingness to take advantage of that happy human psychological miracle called out of sight, out of mind.
A promise: IF I GET 100 × SCHLEICH HOLSTEIN OR FLECKVIEH COWS, I WILL DONATE £500 TO A CHARITY CHOSEN BY MAJORITY VOTE.
** 3 SIMPLE STEPS
Go to one of the following pages and buy me 1 cow of your choice... either a Schliech Holstein Cow (from Amazon or Happy Happy Sue) or a Schleich Fleckvieh Cow (from Amazon or Happy Happy Sue). Have it sent to S&W, 18 Hewett St, London EC2A 3NN, UK. This is my work address. I am not going to give out my home address to the kind of people who send plastic animals to folks they run into on the internet.
On the gift message, tell me which of these charities you would prefer me to donate £500 to: Aga Khan Foundation, Breast Cancer Care, Medical Foundation for the Care of Victims of Torture, or Traid.
I will track deliveries here! At 100, I will have my herd and donate the cash to the charity with the most votes.
IMPORTANT NOTE. For the purposes of the count, only the Schliech brand Holstein and Flechvieh cows above will qualify. You are, of course, more than welcome to give me, in addition, a Fleckvieh cow grazing, a Holstein bull or Holstein calf, or even a Fleckvieh bull or Fleckvieh calf, and these will be gratefully received and added to the herd. Also feel free to use alternative retailers.
Really it's like you're donating to charity but via me. Or like you're paying to vote for which charity I donate to and meanwhile I get a free cow. Or like you're indulging my stupid whim, and as a side-effect I get a HERD OF PLASTIC UNGULATES.
AND NOW A COMMENT. I do understand that Royal Mail will get a pretty packet from delivery charges out of this, but to be honest I regard physical delivery somewhat as a charity in any case, and it deserves our kind sympathy and support.
** LET'S SEE THOSE COWS AGAIN
Buy this one: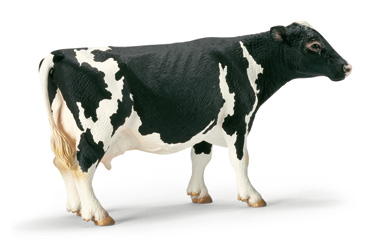 ...from Amazon or Happy Happy Sue
Or this one: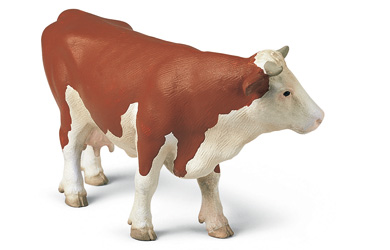 ...from Amazon or Happy Happy Sue
They are £3.75 so if I bought them myself it would cost £375, more or less. You will also pay postage. As an added incentive my donation will be £500 when we hit our target. :-D
Well done team, now let's ROLL 'EM OUT.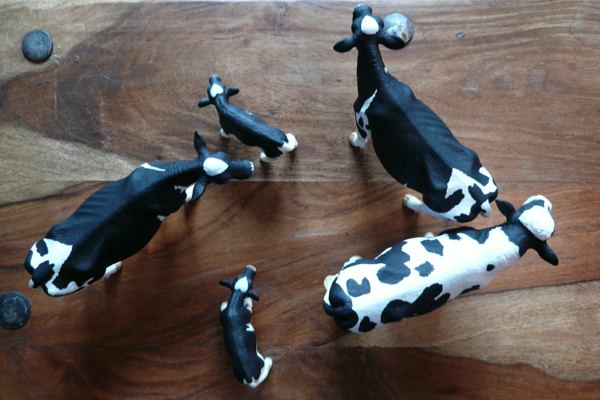 ** PROGRESS (24 March 2009)
So far... 96/100 cows:




































































































Breakdown:
Cows with charity voting rights: 95
Calves: a bunch!
People who deserve gigantic CHEERS: OH SO MANY (I lost count..)
More cows pls!
** WHO IS RESPONSIBLE FOR THIS?
Ultimately it is I, Matt Webb/genmon (email), who is responsible for this travesty of design and abuse of the sense of humour of the internet. I have a blog, naturally, and a design consultancy and studio which has udderly nothing to do with my cattle drive.
** SHARE!
Bookmark this on Delicious

Other ways of sharing: